Start Your Journey to a Driver's License
Learning to drive is an investment that will last a lifetime.
TESTIMONIALS
Paradise is one of the best driving school I have been. It was recommended by a friend and I found it worthwhile.

I would recommend people to go to this school. Thanks Paradise Driving School.

Great had fun with the main man Dwight. It was a struggle at first but prevailed at the end and that's what matters.
10 Lessons
5 Hour Class
Road Test
Free Door-to-Door Pickup (most locations)
Same Car and Instructor

Intermediate Package

$330

5 Lessons
5 Hour Class
Road Test
Free Door-to-Door Pickup (most locations)
Same Car and Instructor

1 Lesson
Simulated Road Test
Use of Car for Road Test (ONE TIME ONLY)
I had a great experience. The driving instructors were very patient and encouraging. They also worked around my schedule. I appreciated their flexibility. I passed my driving test with flying colors.Thank you.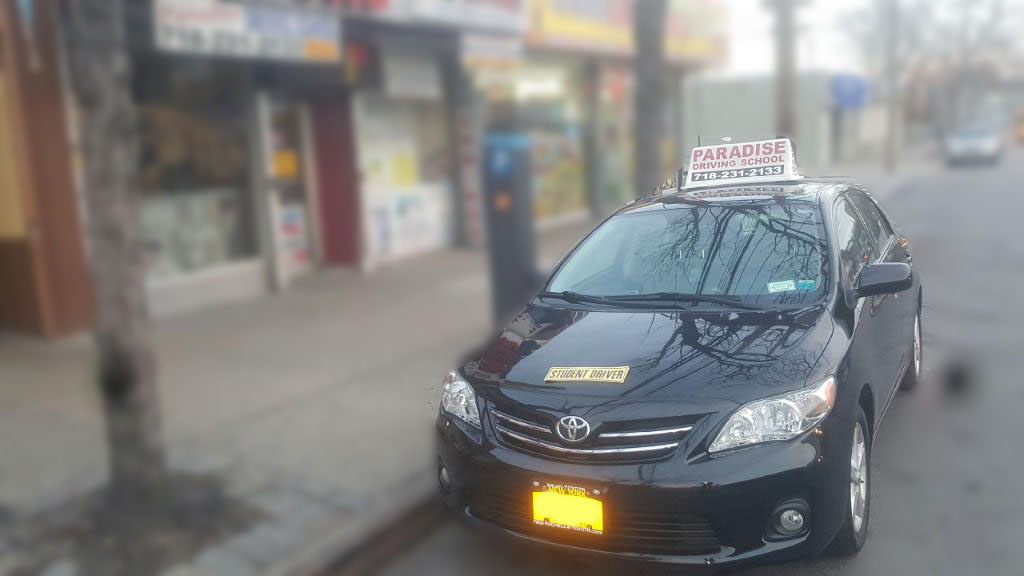 Frequently Asked Questions
These are just some of the most common questions we get asked. For anything else, please contact us – we would be delighted to help.
How do I get my driver's license?
The process to apply for a non-commercial driver license in NYS includes the following steps:
Apply for a learner permit. Pay the application fee and the driver license fee. Pass the vision test and the written test. Receive your permit.
Practice for your road test.
Take a driver education course or a DMV-approved pre-licensing course (5-Hour Class)
Use your driver education certificate or pre-licensing course certificate to make an appointment for your road test. (Paradise Driving School can make it for you.)
Pass your road test and receive your NYS driver license.
How do I apply for a learner's permit?
You must be 16 years of age or older to apply for a learner permit. If you are under the age of 18, your parent or your legal guardian must sign the consent section of your form MV-44 (Driver License Application). Your parent or legal guardian can sign the form before you bring it to a DMV office. Your parent or legal guardian is not required to go to the DMV office with you to sign form MV-44. You do not require consent if you are age 17 and you have form MV-285 (Driver Education Student Certificate of Completion).

You must have proof of identity.

You must show your Social Security card.
How do I prepare for my road test?
Practice frequently. The DMV recommends that you practice at least 30 hours for your road test. Practice at least 10 hours in medium to high volume traffic. The DMV recommends that you take professional driving lessons (Paradise Driving School).
Attend a mandatory pre-licensing course or complete a high school or college driver education course. Most commercial driving schools licensed by the DMV offer the DMV-approved pre-licensing course. Look in the telephone directory under "Driving Instruction."
When you complete the course, you receive a pre-licensing course certificate (MV-278). You must provide the certificate number when you schedule your road test. You must also show the certificate to the road test examiner on the day of your road test.
Only students who complete a high school or college driver education course approved by the NYS Education Department (NYSED) receive an MV-285 student certificate. (This certificate was called a "blue card" in the past.) You do not receive an MV-285 if you complete the pre-licensing course. The DMV does not provide a list of approved driver education courses. Contact your school or the NYSED.
Schedule a Road Test. Make an appointment for a road test. The test date is normally from three to ten weeks after the date that you make the appointment. The time between an appointment and the road test is normally longer in the summer.
After your road test, the examiner will inform you of the results. If you did not pass, you can schedule another road test. If you do not pass the second road test, you must pay a $10 fee to take a maximum of two more road tests.
You can renew a learner permit if :
You passed the written test in the last two years, and
Your permit expired in the last 30 days.
Because learner permits are normally issued for 5 years, most new drivers never renew their learner permits.
Where are the test site locations in the Bronx?
Site Name

Site Address
City
Zip Code
Site Directions

Strang Ave

South Side of Strang Ave. – Between 233rd St and Baychester Ave. facing Edson Ave.
The Bronx
10466

Strang Ave: Take Bruckner Expwy North to New England Expwy exit at Baychester Ave and follow Baychester to Strang Ave. Turn left at Strang Ave and join the line.

Havemeyer Ave

West side of Havemeyer Ave. – between Randall and Cincinnatus Avenues, facing Cincinatus Avenue
The Bronx
10473

Take Bruckner Expressway North. Exit Castle Hill Avenue and turn right at Castle Hill Avenue. Turn left at Randall Ave. , then left to Havemeyer Ave. at Cincinnatus Avenue.

Bronx CDL

East Side of Zerega Avenue – Between Randall and Seward Avenues – Facing Randall Avenue
The Bronx
10473

The road test site is on the east side of Zerega Avenue. Take the Bruckner Expressway North. Exit at Zerega Avenue. Turn right onto Zerega Avenue and continue until you see Home Depot on your right. Form a line at the corner of Randall and Zerega Avenues, facing Randall Avenue (alongside Home Depot).

Riverdale

North Side of W. 234 St. – Between Bailey Ave. and Broadway
The Bronx
10463

Riverdale: Take Major Deegan – NYS Thruway North (87) and exit at W 230th St. Turn left onto Bailey Ave and follow to W 234th St. Turn left onto W 234th St and join line.

Westchester

New Rochelle
Sickles Avenue & Guion Place
10801

Take the Hutchinson Pkway to E Lincoln Ave. Exit. Go 3 miles to Prince St. Make right onto Prince. Go the the end of Prince and make a left onto Sickles. Go to end of Sickles and make a left onto Guion Place.

Westchester

Yonkers
Vredenburgh Avenue & Veltri Place Facing Kimball Avenue
10704

Take Yonkers Avenue. Go across Central Avenue. Make first left onto Trenchard Street. Proceed to Vredenburgh Avenue. Site is 1000 feet on right of Vredenburgh.
Contact Us
Our customer service team is always on call to answer your question.
Contact Information
Do you have questions? Send us an email and we'll get in touch shortly.